Coaching focuses on the present, laying the groundwork for an individual's future. It initiates a dialogue about the possibilities in the future, empowering the client to envision these possibilities and leverage their talent to create a path toward them.
A coach is sometimes a teacher, sharing philosophical insights through metaphors, stories, and case studies to inspire wisdom in their clients. At other times, a coach serves as a consultant, guiding clients to delve deeper and unearth the path that leads from their current reality to the possibilities. And occasionally, a coach takes on the role of a therapist, inspiring behavioral change to propel clients toward a better future.
A coach is there for the client, creating a safe space to unlock the possibilities ahead of them, encouraging and enabling them to approach those possibilities, and ultimately, creating the life they've always desired.
How does Coaching differ from other popular interventions?
4 things Coaching is not…
Coaching often gets confused with other better know interventions, namely:
1. Training
2. Consultancy
3. Counselling
4. Life Coaching
Workplace Coaching is NOT…
1. Training provides off-the-shelf information on what you need to do or how you need to do something (skills development) and stops there
2. Consultancy brings in expertise, normally for a specific project or to identify a specific problem, and then ideally goes in to fix it. At the end of this process, the consultant leaves. Any accumulated knowledge or insights go with them.
3. Counselling looks back in time to address specific personal problems by providing an opportunity to lend a voice to and explore concerns and issues
4. Life Coaching focuses on the coachee's personal goals and aspirations and does not cover the business environment or professional development and performance
Workplace Coaching is unique to all of the above in that it focuses on you, the professional, and your future career success.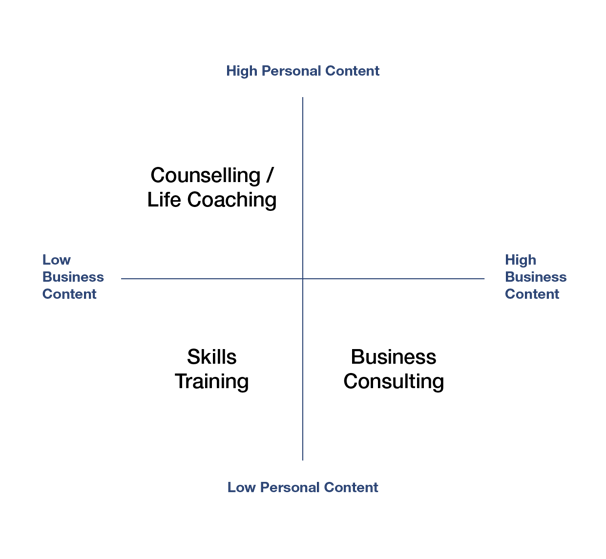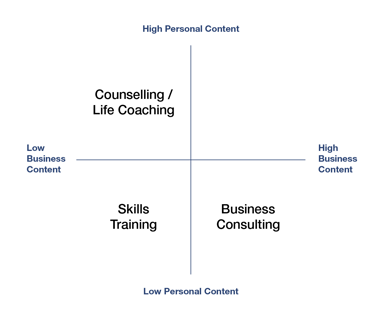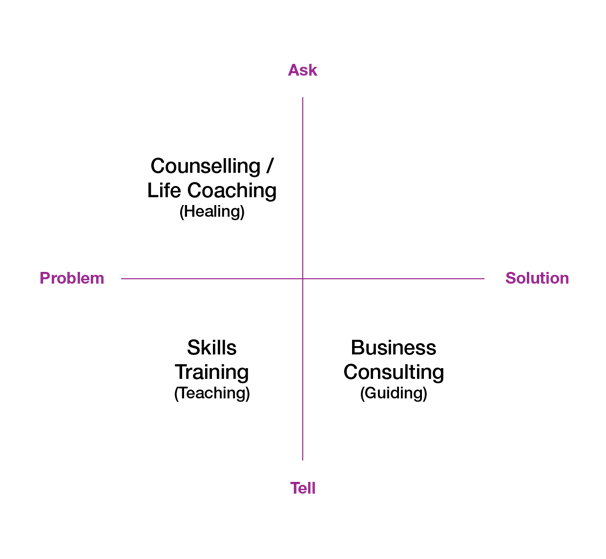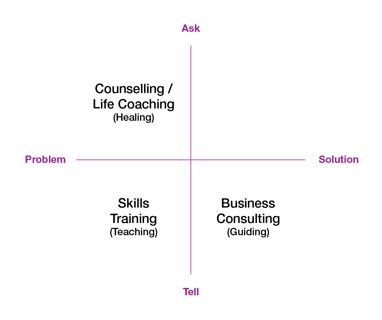 The simple matrix below is another way to understand the relationship between Coaching and other popular interventions in relation to both Personal content & Business Focus and Styles & Focus.
Book your 30-minute complimentary consultation
if you are ready to bring yourself to the next level